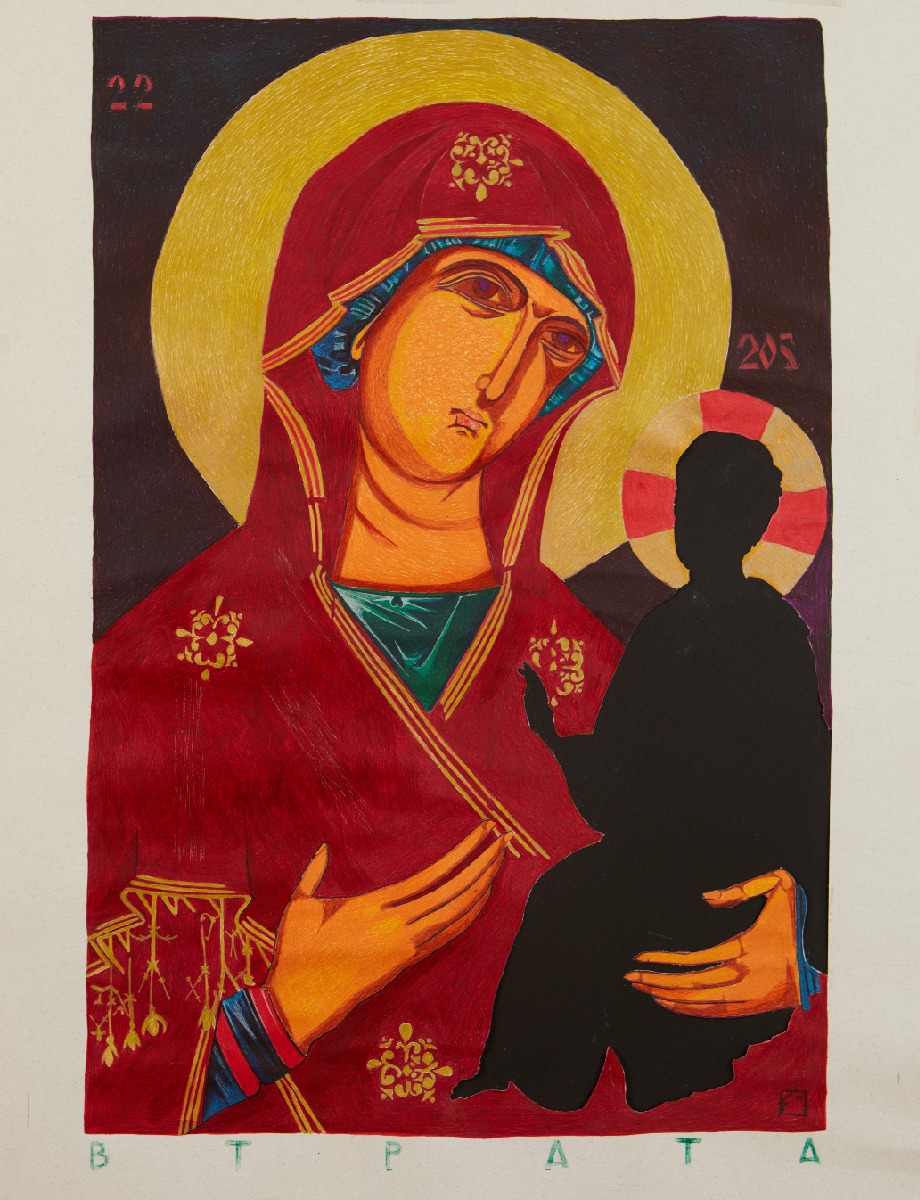 Oleksii Revika
Loss, 2022-58
Starting from the date of Russia's full-scale invasion of Ukraine, the author has been working on a series of "Red Line" posters. It illustrates the events of the war that are happening here and now. Therefore, each work of the series is a red line crossed by Russia. The works of the author's poster series "Red Line" usually have a double name - a place and an event. Also, in addition to the date of creation, Oleksiy adds the day of creation of the work starting from 24.02.22. In this way, a calendar is created with a clear reference to events and phenomena during the war.
The work "Loss, 2022-58" reflects one of the red lines of the poster series - the killing of children. The numbers 2022-58 are the fifty-eighth day since the start of the full-scale Russian invasion. At the time the poster was created, according to official data, 243 children had died as a result of Russia's armed aggression against Ukraine. These are 243 possibilities of the future. Disrupting the usual image, but at the same time maintaining the general compositional order, he added emptiness to convey an important message: the killing of children is a great loss for all humanity. Due to the author's intentional violation of the composition and plot of the classic image of the Ukrainian icon, an image was created that many Ukrainian families were touched by Absence and Emptiness. The main goal of the author was to attract the attention of the world community to the tragedy and once again to remind about the need to help Ukraine in the fight against the aggressor.
And this goal was achieved thanks to the wide resonance of the presentation of the work "The Loss" by the President of Ukraine to the Pope, which took place during the visit to the Vatican.
Also, one of the photo reproductions can be seen now in the Bode Museum in Berlin.
SELECT SIZE:
If you order a printed poster, the cost of printing and delivery will be added to your order.
10% of the sum will be donated to the Armed Forces of Ukraine or the Come Back Alive fund or the Charitable Foundation "Voices of Children". 50% will go towards supporting Ukrainian artists. 40% will keep this project running.
Previews of the posters can be used online for free with an indication of the authors and our site.