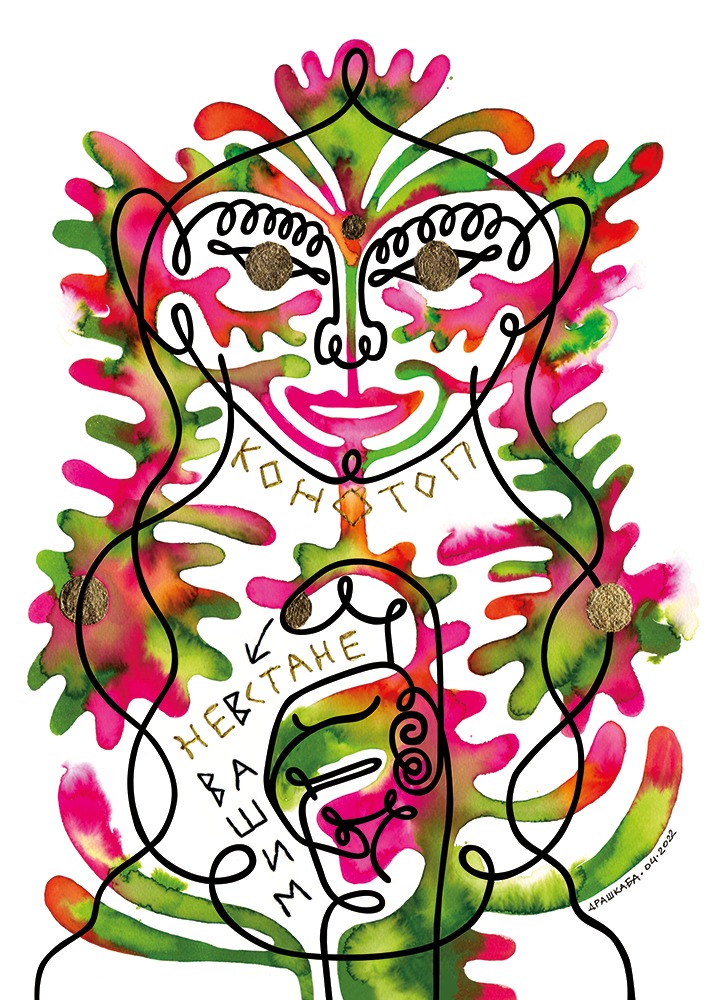 Olesya Drashkaba
Witch from Konotop
"Do you know where you are now? This is Konotop! Every woman here is a witch!" - shouted an unarmed Ukrainian woman addressing an armed Russian soldier, threatening him with the spell of impotence.
When dominated by the physical force, can women develop magic powers to fight back? There are numerous myths and legends about Ukrainian witches, and town of Konotop is the folklore "capital" of Ukrainian witches, described in literature and tales including Ivan Kotlyarevskyi, Hryhoriy Kvitka-Osnovyanenko, Mykhailo Kotsyubynskyi, and Mykola Gogol Ukrainian witches are a well-known cultural and ethnographic phenomenon. In Ukraine, a "witch" was an adult or elderly married woman, who had a good knowledge of herbs, was a healer, helped to treat cattle, predicted good harvest and could advise on women's health and even happy marriage. This image is neither mean nor threatening in the Ukrainian myths, although, of course, who would recommend joking with a witch?
If you order a printed poster, the cost of printing and delivery will be added to your order.
10% of the sum will be donated to the Armed Forces of Ukraine or the Come Back Alive fund or the Charitable Foundation "Voices of Children". 50% will go towards supporting Ukrainian artists. 40% will keep this project running.
Previews of the posters can be used online for free with an indication of the authors and our site.